What a fabulous celebration!  It was a great privilege to have our first book event in Manila at such a dreamy place as the Pottery Barn Kids store in BGC.  Our hosts were so wonderful and accommodating.  Thank you Donn and team!
We were so excited to share with our guests the story of how Philip & Ana started and where the inspiration for Francesca came from.  We hope they enjoyed the scrumptious little treats from Linden Cafe, the delectable cookies from Cake Avenue and the specialty coffee from Third Swell Brews.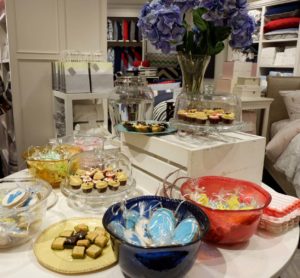 It was such an honor that a director of the National Book Development Board of the Philippines, Mr Balisi, could join us.  We were thrilled to meet Tembong and Samanta (Love & Gravity), Niña (Inquirer), Anne (World Vision Philippines), bloggers Diana and Leah, and many more.  We couldn't have pulled it off without the support of our wonderful family and friends.
The stars of the event, of course, were our special little guests, we hope they enjoyed Story Time and the fluttery piñata!